Update, October 2021: we are not running classes at the moment.

Would You Like Your Child to Express Themselves Clearly and with Confidence?
We run fun, lively and creative classes to help children and young people to find their own unique style of self expression.
This helps them to lead and build confident, relaxed, happy lives.
Emma Coogan School of Speech and Drama opened in October 2004 and we still have students with us from our very first year!
---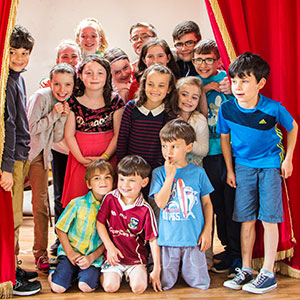 We are committed to providing a high quality standard of speech and drama training for all ages, from 4 years to teaching diploma at Fellowship level.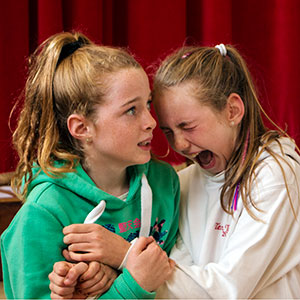 We are passionate about what we do and share that passion with our students, which is reflected in our performances and in the feedback we receive from parents, audiences, adjudicators and examiners.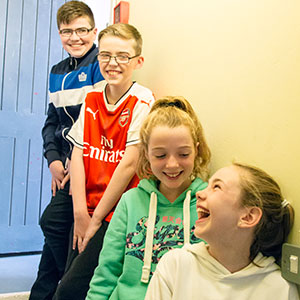 Our classes are about much more than performance. They equip each student with many important tools to help them to achieve their full potential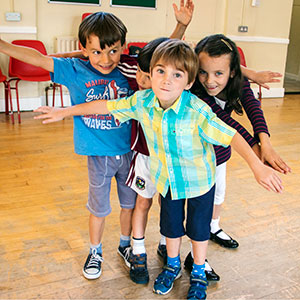 While learning and developing a whole range of techniques, students develop their personality, interact with their peers, enjoy new skills and most of all have lots of fun, in a lively and creative environment.
---
Our students gain a confidence, that will carry and support them throughout their lives.
Emma is an excellent teacher and creates a fantastic environment that encourages all types of personalities to participate and grow. It's a very supportive and fun environment. We have seen our children grow in confidence in public speaking and performance. The riam exams give them a useful qualification.Fran and Eamon – parents of Catherine, Stephen and Eleanor

I love to see the children skip with joy in and out of drama class. The children all agree they LOVE their teacher Emma. The children also love the games and participation in the Feis Maitiu and the end of year show.
Emma has time for all the children and takes them where they're at. She has a great ability to nurture a child's confidence and allow them to bloom. Thank you Emma!Edel and Fergal – parents of Joseph, Thomas, Maria, James and Peter

Excellent classes – delivered in a fun environment where hard work is also encouraged. Kids are encouraged to undertake exams and enter drama competitions to develop their confidence and sense of achievement.Anthony and Miriam – parents of 10 year old Niall

The class is well run and structured and every child has an opportunity to be involved in the class. Many different aspects of speech and drama are covered and it is always conducted in a relaxed, happy atmosphere. And of course, Emma has a lovely way with the children and they couldn't be in better hands!Maria – parent of 11 year old student.

Sorcha really enjoyed the class and felt she was very free to try different ideas during improvisation and other parts of the class without worrying about criticism. I thought she got a great level of personal attention and was pleased that she was able to take exams each year so she could feel she was making progress.Kathy – parent of 12 year old Sorcha

I've decided to send Emilie (9) to drama and speech classes firstly because I'm a big drama fan myself and thought it would help her to boost her confidence (as she can be shy at times) in artistic and creative environment. And I am happy indeed with the choice I've made as Emilie loved each class. She became much more confident and it's a great place to encourage her creativity. Emilie attended Classes for three years in a row and one summer camp. She finds the end of the year shows very rewarding and the RIAM exams..really a great challenge.
I would highly recommend Emma's classes as she is very dedicated and committed to her work and kids. I can see great improvement in Emilie's confidence and the best part – she loves drama!
Giedre – parent of 9 year old Emilie

I would highly recommend the classes to a friend. There is a lovely atmosphere there and they always come out smiling. It is a great relaxed way to improve a child's confidence and there is no pressure on them at any stage. They are gently encouraged to reach their potential.
Jennifer – parent of 12 year old student

…..really fun and challenging exercises to help you get into character. Emma is encouraging and fun.
Eimear – 15 year old student
Want Some More Drama In Your Life?
Sign up to our newsletter to keep up to date on our classes and fun events.